Monthly Food Distributions Continue!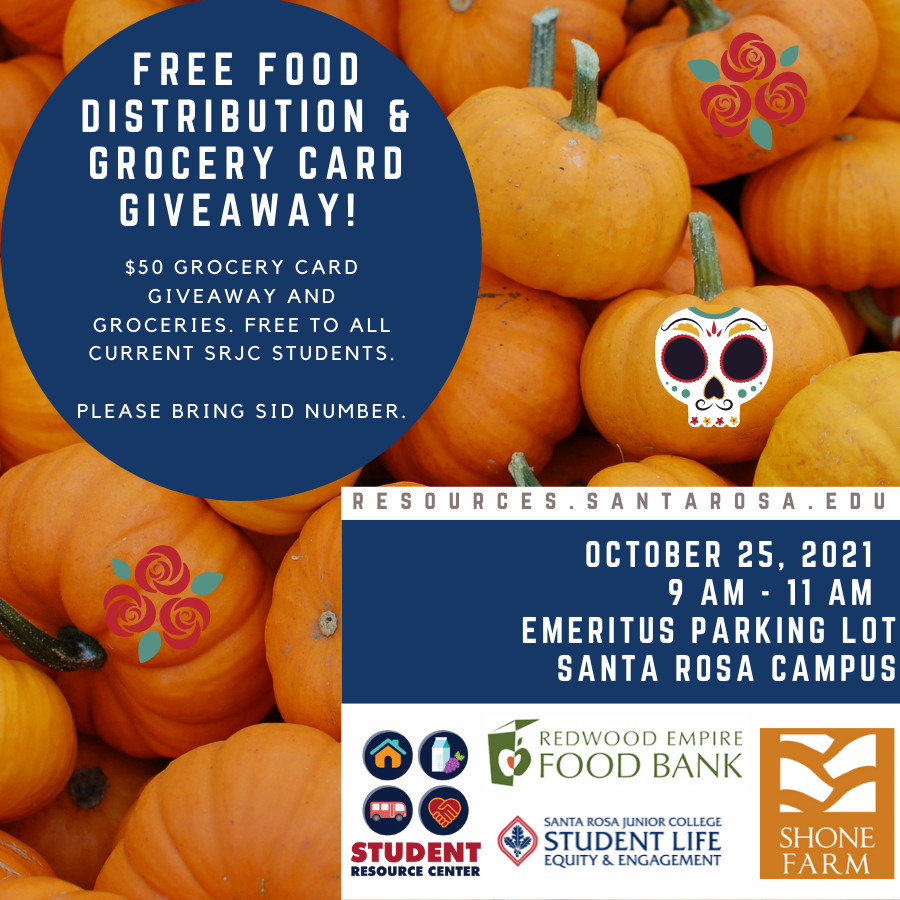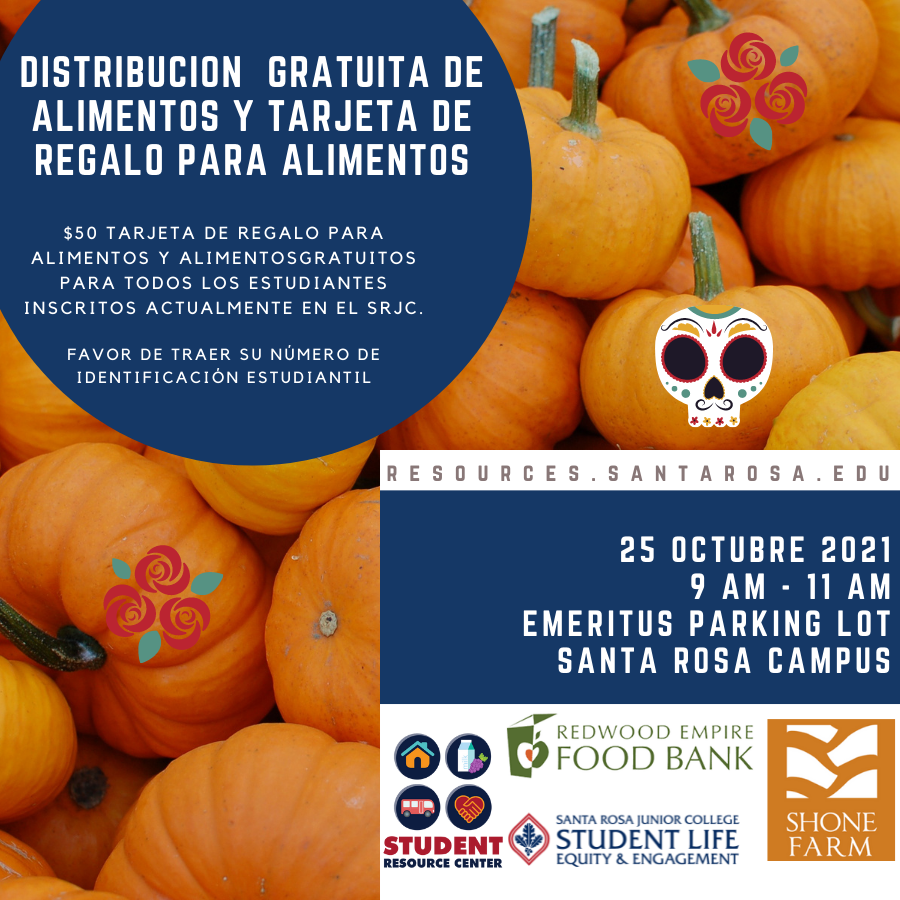 The SRJC Student Resource Center proud to announce that Feed The Bears Food Programs, is partnering once again with the Redwood Empire Food Bank's Station 3990 to ensure that our students, staff and faculty have access to healthy food staples and fresh produce during this COVID-19 Pandemic.
Join us every fourth Monday, from 9:00am - 11:00am on the Santa Rosa Campus, Emeritus Parking Lot. Currently enrolled students will also receive a $50 grocery card. Student identification number (SID) will need to be provided. To help ensure faster service please create a profile with the Redwood Empire Food Bank before the event if you do not have one already. 
Fall Semester Dates:
September 27, 2021
October 25, 2021
November 22, 2021
December 20, 2021
In addition to SRJC's hosted event on Mondays, the REFB (Redwood Empire Food Bank) continues to work tirelessly to provide safe, healthy food distributions for all Sonoma County residents that have been affected by the COVID-19 crisis.
Please, visit the REFB.org website or contact them directly, as locations for curbside pickup change faster than we can post!
Below, is a recent list of sites (as of September 2021).
Below that, is a list of Hot Meal Sites (as of May 2020).
Please feel free to contact the Student Resource Center if you need further assistance or have additional questions.
Please note:  These opportunities to receive crisis distributions of food are NOT the only ones available to our students and our community. Please connect either with the
SRJC's Student Resource Center
or the
Redwood Empire Food Bank
to learn about food availability in your own neighborhood.
Hot Meals
Redwood Gospel Mission, 101 6th Street, Santa Rosa, (707) 542-4817
7 days a week, Breakfast 6:30 AM; Dinner 6:00 PM
St. Vincent de Paul Society, 610 Wilson Street, Santa Rosa, (707) 584-1579
7 Days a week. Lunch, 11:20 AM – 12:30 PM
Bethlehem Tower Apartments / Silvercrest, 801 Tupper Street, Santa Rosa, (707) 544-5560
$4 donation per meal, Monday –Friday, noon
Church of The Roses Incarnation, 550 Mendocino Avenue, Santa Rosa
(707) 579-2604 | Breakfast bag
Methodist Church, 1551 Montgomery Drive, Santa Rosa , (707) 545-3863
Dinner 5:30 PM, a bag dinner
VOICES, 714 Mendocino Avenue, Santa Rosa, (707) 579-4327
Hot meals for youth ages 16 to 24, Monday-Friday, noon-4 PM
---
For more resources and information visit our Student Resource Center link to crisis/disaster information and resources